Summer Abroad Series: Paris
By Lucy Friedmann
The first French word to learn for an upcoming Summer Session in Paris?
La mode.
Fashion.
The French, particularly Parisians, have always been emulated for their impeccable style, both in the streets and on the runway. Fashion powerhouses from Chanel to Hermès have been founded in the iconic city of lights. Now, as college students, shopping at such maisons is unrealistic; we're all on a budget, right? Yet both observing and participating in the fashion scene is necessary during any Parisian study abroad program. So how are we to manage?
First and foremost, packing correctly is essential. Temperatures in the low to high sixties typically characterize May and June, while July and August are a little hotter, getting up to the high seventies. Therefore, it's important to pack both light clothes for the warmer days and layers for the cooler evenings. Also, since June and July are no strangers to daytime showers, be sure to pack an umbrella.
But how are we to fit in amongst the effortlessly chic Parisians? Any outfit must start with the right hair: the elusive "I woke up like this" waves. To achieve such a French-girl look, merely spray dry hair with Ouai Wave Spray ($26 online) until adequately damp, then pin with duckbill clips ($4, pack of twelve, Target), leaving ends loose and letting the product air-dry. Just like our hair, our clothing ensembles must look put-together yet effortless. Yes, it's an oxymoron if I've ever heard of one, but such outfits are quintessentially Parisian— and I hate to break it, but shorts are not the answer. Parisian women are wont to pick skirts and light sundresses over cutoffs because nicer shops, churches, and more sophisticated venues will not permit them inside.
Now, before we can finally go out, we need comfortable walking shoes that do not give away our non-native status. What are we to do? And if you plan on prancing through Paris in wedges and high heels, think again. Sandals and flats are much more common because of their practicality in navigating the cobblestoned streets. Look below for some style inspiration!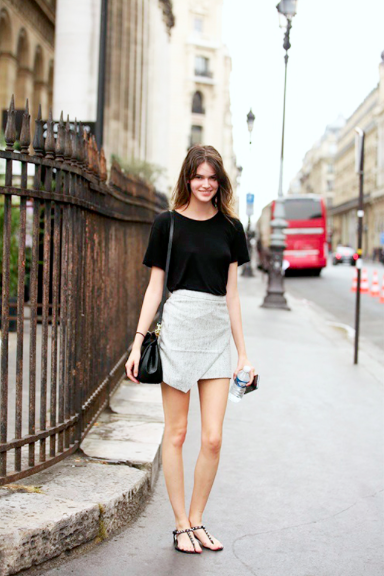 Outfit 1: Pleated midi skirt, Cropped collared shirt, Flat slip-on sandals
Outfit 2: Sheer slip dress, Sunglasses, Gladiator sandals
Outfit 3: Asymmetrical skirt, Black short shirt, Sandals
Parisian outfits are notably timeless. While women in the city of lights love fashion, they tend not follow the ever-changing trends of our generation. They choose simple, well-cut, and classic looks over more daring ones, paying special attention to fabric. Even if the clothes aren't expensive, they ought to feel like they are.
In keeping with this timelessness, Parisian women have a very distinct color palette. They prefer neutral colors, such as black, white, navy, and nude, exemplifying the very Parisian "less is more" attitude. Coco Chanel once said, "Before you leave the house, look in the mirror and take one thing off." In dressing like a Paris native, it's important not to over accessorize— one standout accessory, nothing more. Plus, having such a simple-colored wardrobe allows for easy mixing and matching and works for almost any occasion. Granted, there is one notable exception: a dramatic red lip. Parisians make this bold makeup choice regularly whether they're going to work or out on the town. A very easy look, a red lip is the simplest way to dip one's toe in the water of Parisian style.
Although it involves more effort, to really dress like a Parisian, we need to pay attention to details. The women of Paris love polish, in all senses of the word. Short, well-manicured nails are a must, as well as clothing that have been perfectly steamed with no creases to be seen. Such polish extends to all areas of life, too. "Dressing down" isn't in their vocabulary. It's unclear as to whether or not Parisian women even own a pair of non-Lululemon sweatpants. Even casual coffee-runs are done in style, so be wary. No "just thrown on" looks, or we'll stand out for sure.
Despite the hot weather, July is one of the best times to be in Paris. Why? Les soldes. In preparation for the upcoming influx of fall and winter clothing lines, stores hold big sales. Everyone in the city goes shopping, including employees, who take extra long lunches to be able to buy their fair share of the discounted merchandise.
But where should we shop? For haute couture, look to the right bank. The left bank is home to more trendy and affordable boutiques. The best department store, with exquisite fashion and household wares, is Bon Marché. If you want quirky, independent shops, Rue de Charonne in the 11th arrondissement is the place to go. There you can find small, under-the-radar stores alongside more prominent ones like Isabel Marant, so it's a great place to go with friends of varied budgets. Concept boutiques and some end-of-season outlets are located in the quartier Canal Saint Martin, the key streets being Rue de Marseille and Rue Beaurepaire. These streets mimic the New York City borough Williamsburg in its retail vibe, with its mix of converted old Parisian ateliers. The Haut Marais houses small, creative boutiques that feature both up-and-coming labels and classic Parisian ones. Situated behind Rue de Bretagne, along Rue Charlot, this area of Paris is the place to find pieces that embody the Parisian "bobo" (bohemian bourgeois) look. The Merci concept store, a more understated and less expensive version of the hip store, Colette, is located here. On the other hand, the quartier Etienne Marcel seems to encompass the laid-back tendencies of California. Be sure to check out Yaya on Rue Montmartre for its unique prints and well-tailored fabrics and Rue Tiquetonne for vintage shops and concept stores that carry seemingly "L.A. style" attire.
Of course, while shopping in a foreign city, we must always be aware of the exchange rate. The euro is currently a bit weaker against the U.S. dollar: one U.S. dollar equals 0.90 euros. This rate is beneficial to those of us who are American; it means that, in theory, we can get more "bang for our buck" shopping in Paris. So be sure to use this rate to your advantage! Save some pocket money for clothes shopping while in Paris. It's not a true Parisian trip unless our suitcases weigh more flying home than they did flying in!